PWM Class 97/6 0-6-0DE
Model Rail, Kernow Model Rail Centre and Heljan have joined forces to bring you a ready-to-run 'OO' gauge Class 97/6, better known as the 'PWM'.
Five Ruston & Hornsby 0‑6‑0DEs were ordered by the Western Region for use in replacing 60ft track panels with continuously welded rail. They were designed so that they could be hauled from depots to work sites in permanent way trains where the traction motor would be re-engaged to enable them to shunt wagons. The 'PWMs' were never part of the capital stock list and were only ever allocated to Departmental duties. EWS withdrew the final two, 97651 and 97654, in 1998.
Our tooling will only cover PWM651-654 (97651-97654), which were delivered in 1959. The pioneer, PWM650 (97650), built in 1953, had smaller wheels and other differences.
The tooling is being split three ways:
Model Rail will offer pristine versions in five liveries, Kernow MRC will offer weathered versions of those same liveries and Heljan will produce versions in industrial‑inspired colour schemes.
Work started in August 2019 – Paul and Peter Martin graciously allowed Model Rail's Richard Foster and Heljan's Ben Jones to measure and photograph their PWM651 at the Swindon & Cricklade Railway.
Final specifications have yet to be finalised, but it's hoped that the 'PWM' will have a Next18 DCC decoder socket, factory‑fitted speaker, and interior lights.
Prices have yet to be confirmed and we'll let you know when the order book opens. It's hoped that the 'PWM' will hit the shelves during 2021.
As seen below the first pair of Decorated Samples were receievd in July following artwork being approved earlier in 2021 and the first Engineering Prototype samples having been received in July 2020.
Model Rail - Models being produced - Order book not yet open
MR-400A PWM651 BR plain green
MR-400B PWM652 BR plain green
MR-401 PWM654 BR green 'wasp' stripes end only
MR-402 PWM651 BR green wraparound 'wasp' stripes
MR-403 PWM651 BR light green
MR-404 PWM652 BR Blue
MR-405A 97651 BR Yellow
MR-405B 97652 BR Yellow
For details of the Kernow Model Rail Centre versions click here>>>
Return to Page Top


Project Update - August 2021


'PWM' SAMPLES UNDER TEST
A pair of decorated samples of our Ruston 'PWM' 0-6-0DE arrived in late July, just before we went to press. Rigorous mechanical and electrical testing has already begun, hence why these models are showing a few bumps and scrapes. This project is running in partnership with Kernow MRC and Heljan, with a variety of BR and industrial liveries being offered in both pristine and weathered condition. More information will follow soon but, before then, there are still a few minor tweaks to be made and other livery samples to inspect before production can begin. Keep an eye out for more developments in future issues of Model Rail.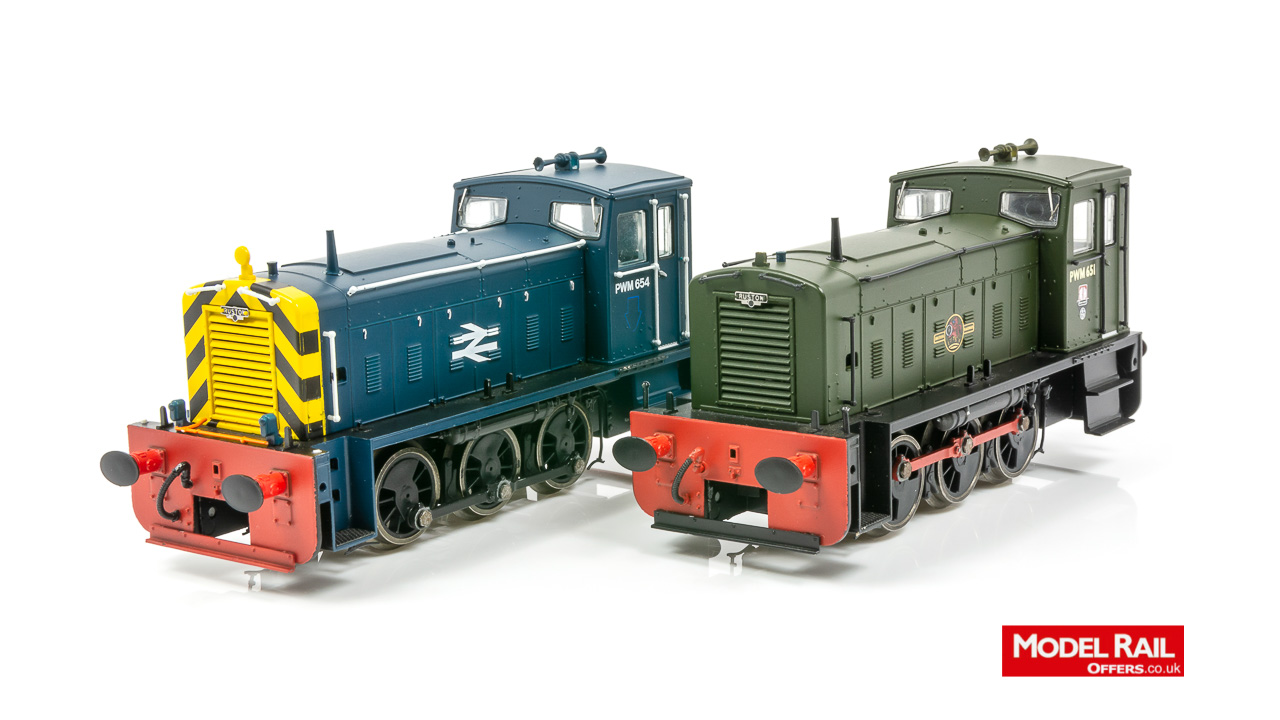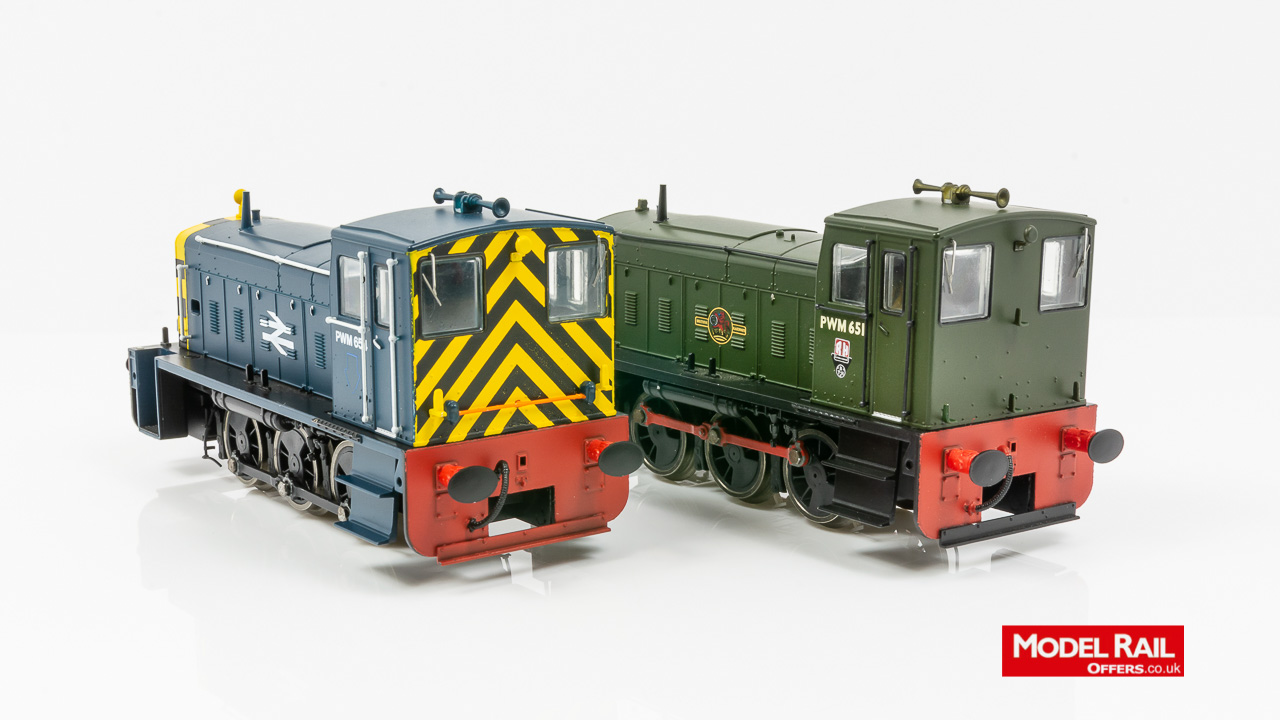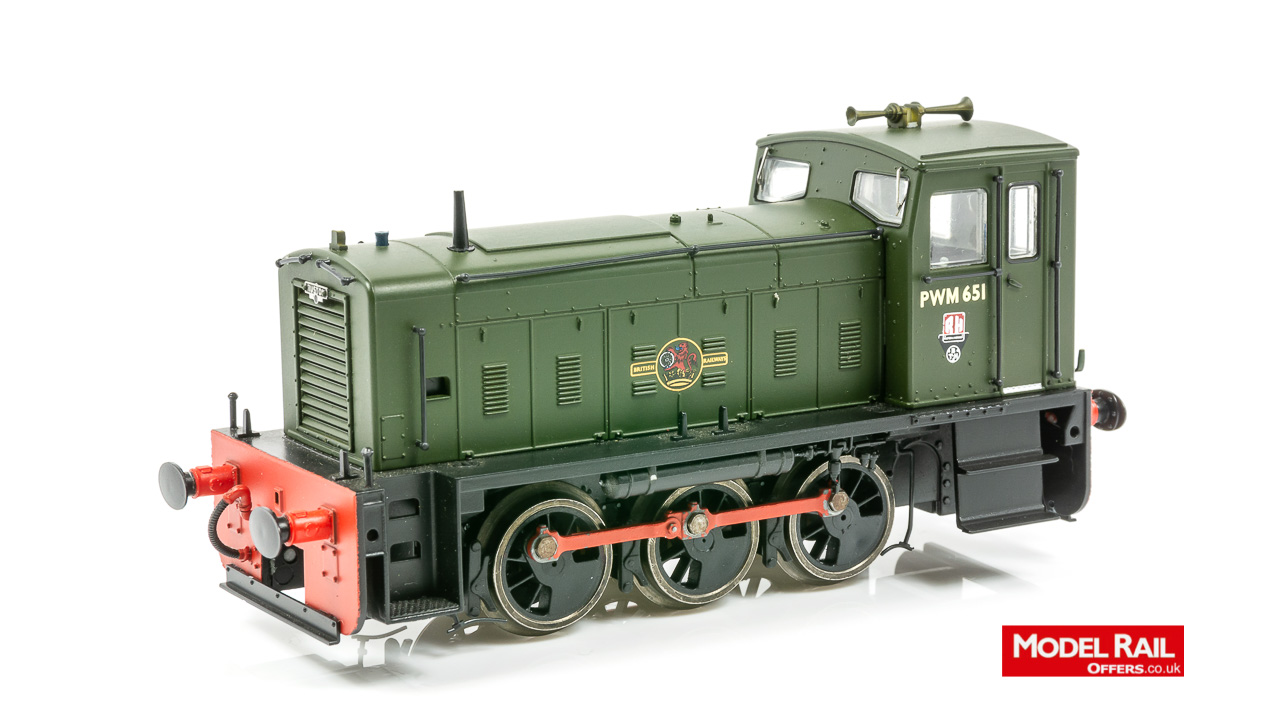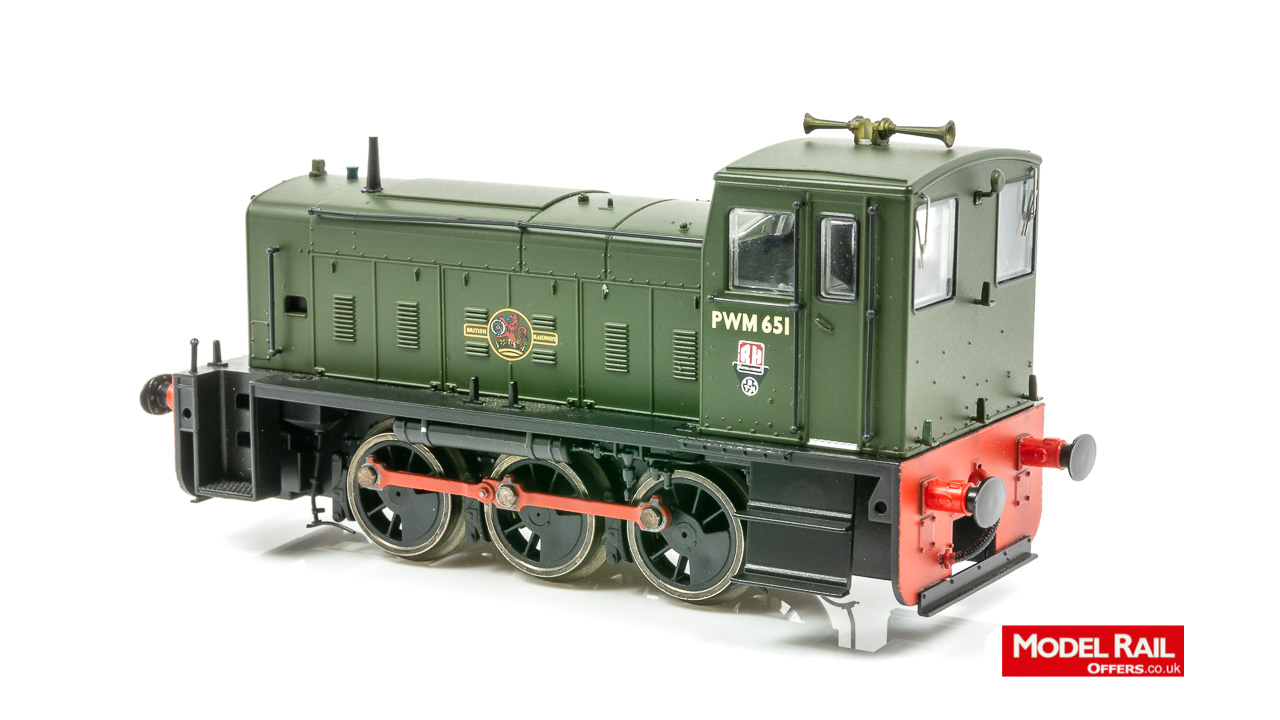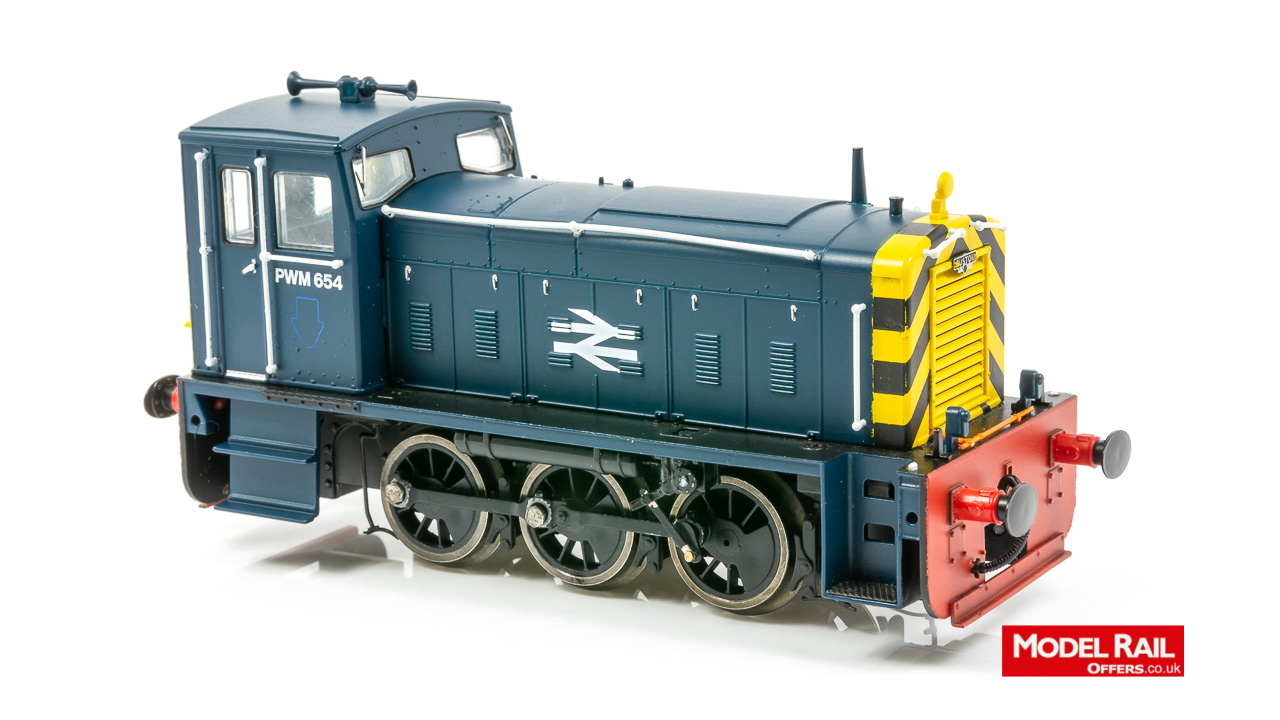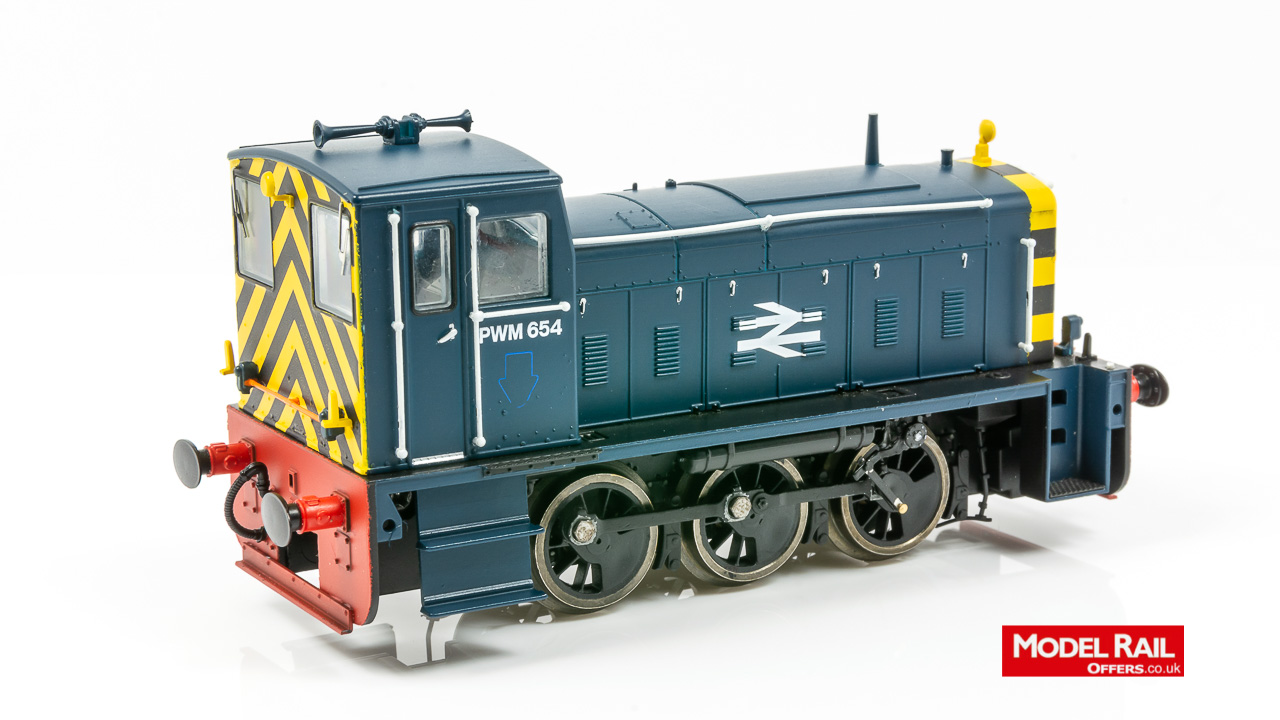 Return to Page Top
Project Update - June 2021


The decorated samples can be seen below being tested in the factory and are now on the way to us for checking before production begins.
We hope make them available for pre-order soon.



Project Update - July 2020 - First engineering samples arrive

The first engineering samples of our PWM have arrived. These will be extensively tested and evaluated over the next few weeks. Please see some images below, but please remember these are first engineering samples and as such the combination of tooling options may not match any specific prototype.

Return to Page Top